Nerds That Care
New Website and Strategic Online Marketing Program for Nerds That Care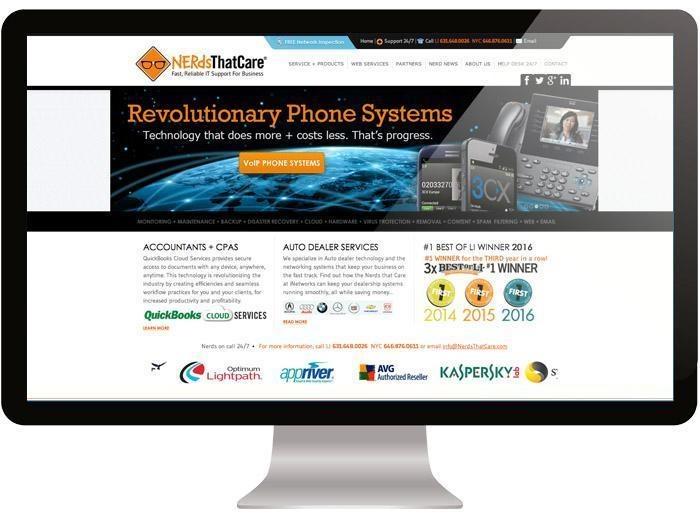 When the owners of computer IT services provider Nerds That Care wanted to update their website, key needs included: strongly represent their bold brand identity; give the site a more current look and functionality; share their industry expertise; and showcase their wide variety of services. SK Creative agency developed the brand strategy and applied it to the website, and engaged Matt Harris and the Medium Well team to implement ongoing website updates and an online marketing program, which include adding a strong social media reach.
NerdsThatCare.com is built in WordPress for ease of administration, flexibility and scalability. The website conveys their expertise and helpfulness, along with personalized service.
In addition to the Nerds That Care team providing a wide variety of computer services to their clients (primarily small-medium sized business owners in the NY tri-state area), they share expertise to help business owners within their client networks and beyond. As a partner with SK Creative, Medium Well facilitates this by writing timely, relevant blog posts targeted to businesses owners (Nerd News), sending email blasts with updates on key topics (Nerd Alerts), and sharing on social media channels. In addition, the services provided by Nerds That Care are promoted via a strategic advertising plan on Google and Facebook. Content for all channels follows a strategic plan based on Nerds That Care's goals for growth.
This is an ongoing collaborative project where the advertising agency provides art and creative direction, while the Medium Well team handles copywriting, technical implementation, and marketing. The result is a website that encompasses the desired brand personality and showcases the functions and services of Nerds That Care.
Example of tying in Nerds That Care expertise with a timely issue – blog post promoted on Facebook using eye-catching graphics: 
NOTE: In May 2015, Medium Well became Harris Web Works. This new name reflects our commitment to providing a complete range of online business services, and builds upon the reputation of our founder, Matt Harris. This project was completed while we were still Medium Well.