Imperial Textile
Three URLs, One Cart, One Magento Enterprise Instance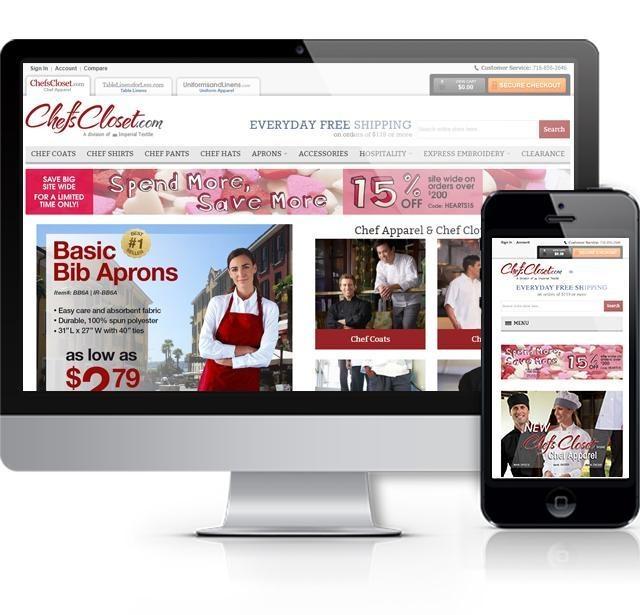 Websites ChefsCloset.com, TableLinensforLess.com, and UniformsandLinens.com are owned by parent-company Imperial Textile. The three branded websites reside under one instance of Magento Enterprise, and have grown and evolved over the last few years as the company has expanded to sell worldwide; customers are primarily food-service providers. Many products are available in multiple sizes, dozens of colors, and/or with customizations such as embroidered logos – resulting in over 60,000 SKUs across the three brands.
By late 2016, the sites were running slowly and experiencing performance errors as a result of inadequate hosting, outdated templates and extensions, and isolated customizations that had been made over the years. In 2017, Imperial turned to Harris Web Works to improve overall site performance and handle Magento version updates.
The Harris Web Works team started by migrating the massive site to our Amazon Web Services (AWS) dedicated container, which included SSL (Secure Sockets Layer) installation, and filtering traffic through a reverse proxy server. Cloud-based AWS is the most reliable, flexible and fastest hosting platform available. Over the subsequent months, additional server resources were added to accommodate more and increasingly complex data. (More on hosting configurations here).
Along with hosting, Harris Web Works handled: Magento version updates from 1.12 to 1.14; troubleshooting & debugging technical issues; site administration; and consulting on Google feed implementation. Site complexities and challenges included:
Each brand has its own URL, yet the cart travels with the user from site to site. This impressive feature lets users add products to the cart from all three sites then checkout all at once. However, the functionality was not performing as desired, in that one of the site's carts did not align with the others. Through a series of version updates and bug fixes, Harris Web Works resolved the problem.
The sites have a variety of tiered, matrix, configurable and single product set ups.  Like other sites, this can happen when different programmers and administrators apply updates over several years. This inconsistent approach to functionality, along with data that was missing or corrupt (largely due to maintenance lapses), required extensive work to bring the site up to date and provide users with a much smoother shopping experience.
Implementing a strategic approach included mapping out key incremental changes and addressing security vulnerabilities, while updating the site in anticipation of a Magento 2.x upgrade.
The above work, performed by the Harris Web Works Magento and AWS certified programming team, resulted in vast improvements in site performance, user experience, and site security.
Additional Resources
Why Host Your Magento Store on the Amazon Cloud
Updating to Magento 2 Commerce (aka Enterprise)
Select Projects:
Magento - Industrial, Manufacturing
Magento - Consumer, Retail
Biopharmaceutical & Life Sciences