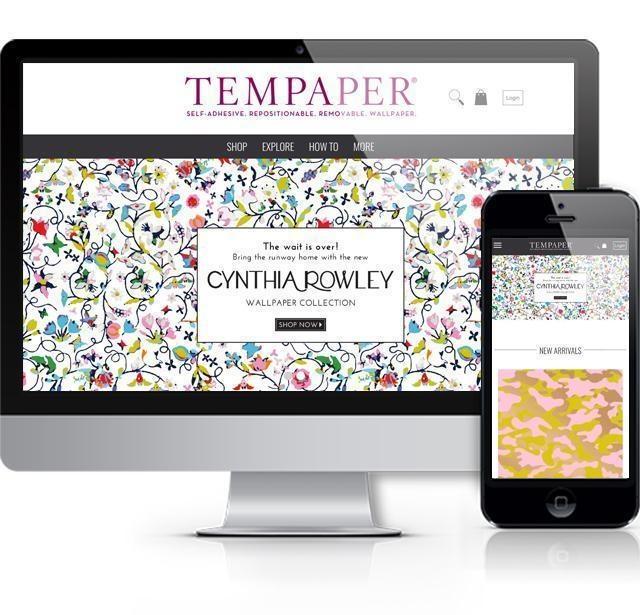 Magento Website & Digital Marketing Helps Retailer Become Industry Leader
Next
Tempaper provides self-adhesive, peel-and-stick, temporary wallpaper in designer, stock, and custom collections. Their products are sold in many brick & mortar home décor stores throughout the U.S., Canada and several other countries. With operations ready to meet an increase in demand, continually updating the appearance and functionality of the site is crucial to this industry-leading brand.
Building this highly visual site in the versatile Magento platform allows Tempaper's online shop to go toe-to-toe with major eCommerce sites. Special features include:
The ability for customers to easily upload their own designs to create custom wallpaper designs
A wallpaper calculator tool that help customers determine the correct quantity to order
Product image zoom upon mouseover
Inventory and shipping functions work with the eCommerce system
The website is designed so all functions and images display well on mobile devices and provide a contemporary, inspiring shopping experience. The refreshed site provides an updated browsing and buying experience for users. Quite importantly, it displays product images beautifully and in detail, which is crucial to a buyer's decision-making process.
Harris Web Works provided ongoing site administration and technical support, enabling Tempaper to continually add new product lines and images with ease. Work included writing blog posts and editing text throughout the site.
Advertising & Marketing: To drive traffic to the website and increase sales, Harris Web Works implemented a strategic advertising program focused on display advertising and an aggressive mix of targeted pre-roll, retargeting, social media, and campaign optimization to reach and convert the desired audience. Messaging was shared across multiple platforms, focusing on awareness, special promotions, product launches, and general product advertising. Ad management included handling the ad buys, creating ad content & art, researching and placing keywords, targeting, monitoring & reporting, and refining. Since starting the program, Tempaper experienced an increase in qualified traffic and a strong increase in revenue.
Select Projects:
Biopharmaceutical & Life Sciences
Magento - Consumer, Retail
Magento - Industrial, Manufacturing