If you have an eCommerce site, then of course you want your advertising investment to rise above the competition and connects you with prospects who are ready to buy, the better. That's no great insight, we know. We make this point at the outset of this post for one reason: this is precisely why Google Shopping Ads are increasingly the best choice for eCommerce businesses.
What Are Google Shopping Ads?
If you search Google for a new office chair, you'll see a "Sponsored" section appear above the search results. It's hard to miss – a stream of products, each with its own picture, name, price, website, and sometimes even a rating included. The ads are all the same size and format. These are Google Shopping Ads and they reach a coveted audience – people who are seeking those products. In addition to standing out on the search engine result page (SERP) and capturing the attention of interested buyers, shopping ads prompt quick action. With one click, the user goes directly to the product's page on your website, generating new leads and immediate conversions.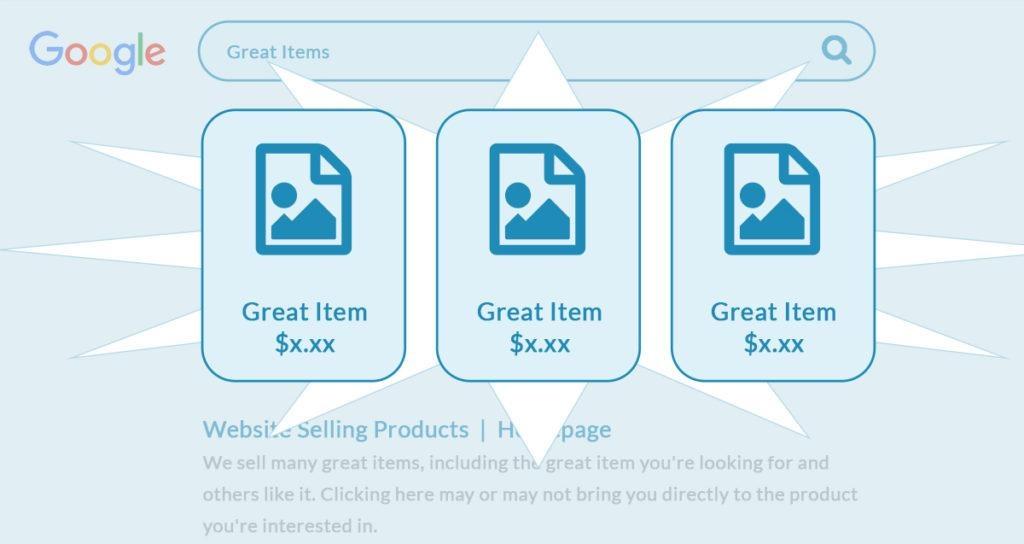 How Do Google Shopping Ads Work?
If a potential buyer sees your product in a shopping ad, it's because they searched on Google using a keyword associated with the product. Your ad is only displayed if the user's search activity suggests they would be interested in the product, and it's this group of interested buyers that clicks come from. Because shopping ads are positioned at the very top of the page and contain pictures and prices, they're a lot more eye-catching and clickable than plain text search results.
You pay only when someone clicks. Even when a click doesn't result in a purchase, it still provides value in lead generation and brand building amongst your target audiences.
Google Shopping Ads are generated via a product feed that comes from your commerce website and ties in with your Google Merchant account. By configuring a few settings, you can control which categories of products, or individual products, appear in shopping ads. This is quite convenient for businesses with a large inventory and/or a small budget because it allows for automation of ads, easy keyword designation, and provides data to help optimize performance.
Managing a product feed can be tricky (we offer doing so as part of ongoing Magento Support & Administration). Those wanting to attempt it themselves can may find this article helpful:  Optimizing Your Google Shopping Feed for eCommerce Success.
How Do Google Shopping Ads Differ from Google Search Ads?
A quick primer: Google Ads (formerly AdWords) are sponsored ads that include text, but not images, prices, or reviews. Many companies use these to have more control over branding and messaging. Key differences between Google Ads and Google Shopping Ads for eCommerce retailers to consider:
Google Shopping Ads include product photos, whereas Google Ads include only words. A picture is worth a thousand words and in the image-dominated digital environment, words alone are rarely enough to capture the click of searching shoppers.
Google Shopping Ads show users the price immediately. In a highly competitive arena, showing this key piece of decision-making can give you a significant edge, especially if your products are competitively priced. Buyers can see your product and those of your competitors in the same sponsored section.
Combine these two features — product images and pricing — and it's easy to understand why Google Shopping Ads are rapidly gaining traction in eCommerce. On the other hand, if your business is service-oriented or offers only a few specific products, is driven less by the price of an individual product, and is less conducive to using images to capture attention, Google Ads may be a wise choice. Carefully crafted more traditional text-only ads can be an effective way to underscore branding messages and attract traffic to your business' website.
Types of Businesses That Should Use Shopping Ads
If you're not living it every day, the choice of ad type can be confusing. Here are a couple of rules of thumb that might help:
For businesses with multiple product lines, Google Shopping will almost always deliver the most significant value for your investment — measured in cost-per-click or click-through rates.
Typical budget levels for Google Shopping range can start at $10/day and go from there. So even with a modest budget, businesses can invest in and benefit from this type of targeted eCommerce advertising.
Google Shopping Ad clicks generally cost under $2.00 per click across all industries, whereas targeted Google Ads can cost much more for a single click ($50 and up), depending on the keyword and industry.
One reason Google Shopping Ads are accounting for a more significant portion of eCommerce ad budgets is that they enable a more targeted & strategic approach and bring more qualified leads to your product pages.
Google provides these helpful articles: About Shopping Campaigns and Shopping Ads and Getting Started with Shopping Campaigns and Your Google Ads Account.
For companies with a line of products that benefit from visuals and specific pricing, Google Shopping is the way to go. For those who will go the extra step to stand out with compelling visuals and find innovative ways to highlight aggressive pricing, an even higher rate of return is as close as the next few click-throughs.
Get a FREE eCommerce Business Assessment – learn how you can manage orders, product data, customer information, and accounting processes in one seamless system.
All Articles