At the most general level, B2B eCommerce refers to any online transaction between businesses. For some companies, B2B eCommerce is just one of multiple sales channels. For others, it accounts for all sales. Regardless, the platforms making B2B eCommerce possible are powerful online marketplaces that help companies get more visibility on their products, close more deals, and scale faster.
The nature of B2B transactions means that eCommerce stores must provide advanced functionality such as bulk purchases, tiered pricing, personalized shopping experiences, streamlined payment workflows, and more. In fact, some stores use complex rules and custom features that require building from the ground up.
This means the cost of B2B eCommerce platforms can vary quite a bit, but with a system that's tailored to a business' exact needs, the investment can pay back in spades.
What Does B2B eCommerce Cost?
When it comes to developing B2B eCommerce platforms, Magento has become the industry standard. It's a open source eCommerce platform that developers use to tailor online stores to advanced business needs. It was acquired by Adobe in 2018 and became part of the Adobe Experience Cloud. A Forrester report on B2B and B2C commerce suites named the platform as market leader.
Of course, the cost of a B2B eCommerce platform varies based on project scope and required features. We'll focus on pricing for a Magento site, as it's the most comprehensive and robust platform available. Here's a general breakdown of what a Magento B2B eCommerce platform can cost: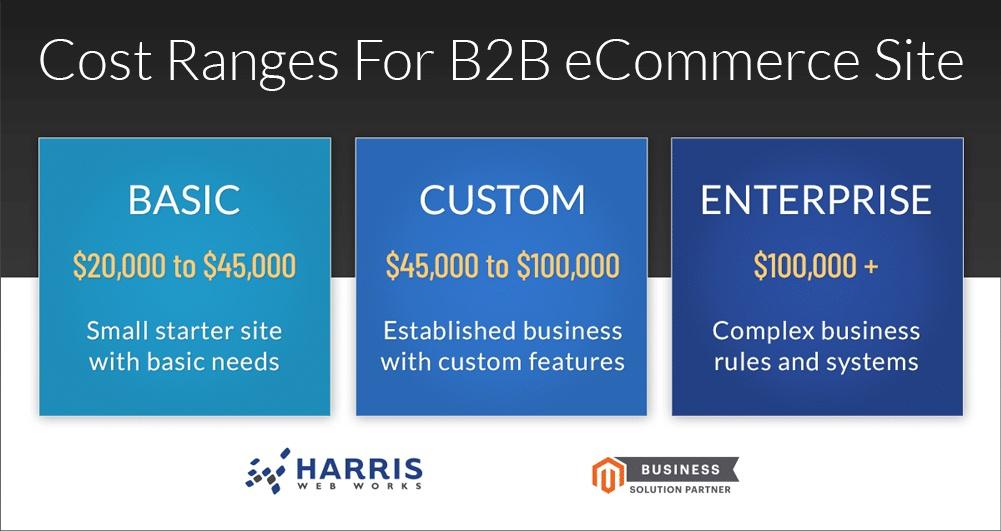 Note that some enterprise resource planning (ERP) companies also provide eCommerce solutions. However, most of these can't support modern shopping experiences. They lack flexibility to meet nuanced business needs like product customization, complicated buying rules, robust self-service options, etc. Integrating a best-in-class ERP system (i.e., NetSuite) with a best-in-class eCommerce platform (i.e., Magento) makes the most sense in the long run. Other well-known platforms (i.e., Shopify), skew towards smaller eCommerce businesses that don't need unique B2B features.
Multiple factors determine which Magento price tier fits a project. We'll explore three of the most influential factors next, focusing on Magento sites. (Related post: How Much Does a Magento 2 Site Cost?)
Factor 1: Building or Re-Platforming
The first pricing distinction is based on whether a Magento eCommerce site is built from scratch or is updated from an existing site. Building from scratch may cost more than other options, however it'll be built on the most technologically advanced foundation available, able to meet and surpass all business needs now and well into the future. Early on, the decision to use Magento 2 Commerce (enterprise edition) or Magento Open Source will factor into cost. The business's website development team can help identify key differences to determine which version of the software best suits the business.
On the other hand, if the eCommerce platform is an update from an existing site (Magento 1 or another platform), pricing will largely depend on the platform from which it's being transferred. Overall, moving a site to the latest Magento version (2.x ) must be viewed as a long-term investment in a top-of-the-line platform that can continually help improve efficiency and provide customers with a premier shopping experience. Development costs will be determined by the amount of work necessary to transfer, update, and configure the site for optimal use.
Factor 2: Number of Features and Integrations
The number and complexity of features is another factor in the cost of a B2B eCommerce platform. Smaller B2B eCommerce companies can be quite pleased with basic (native) yet robust features that provide:
Self-service shopping experience
Payment integration options
Mobile-friendly site framework
Admin interface with product and content management features
The Polylok site was recently migrated from Drupal to Magento 2, due in part to the business owners changing how they want to sell.
If the business is larger and has more complicated needs, custom features can be developed, such as:
Sophisticated marketing functionality (i.e., abandoned cart saver and email integration)
Advanced checkout and shopping capabilities (i.e., multiple currencies, gift cards, and reward point systems)
Smoother integration with payment extensions (i.e., PayPal, Cybersource, and Braintree)
Advanced order fulfillment and inventory management processes
ERP integrations (NetSuite, MS Dynamics, and more)
Shopping personalization
Improved search capabilities
And much more!
The Solar Biz uses many native Magento 2 features and includes an integration with their NetSuite ERP system, for a complete and seamless business system.
Factor 3: Complex Rules and Custom Features
If a B2B eCommerce platform has to manage a very large and diverse inventory, international transactions, and additional complex buying rules, then more custom solutions can be built. These additional complexities may include:
International restrictions on certain products based on customer location or status
Advanced integration with existing ERP solutions or other services
Unique purchase options, such as requesting custom products whether they're in stock or not
Highly dynamic user experience features with expanded account abilities and pricing tiers
And pretty much any requirement a company may need!
AccuStandard and Contractor Nation sites each have their own unique set of advanced customizations that suit current business requirements and the need to continually evolve. See AccuStandard Case Study and Contractor Nation Case Study.
Is B2B eCommerce Worth the Cost?
As you can see, the price of a B2B eCommerce platform can vary greatly depending on the types of features, integrations, and rules that must be implemented. Because of this, the price of the perfect site can be a bit intimidating. So, is it the cost justified?
Yes. Setting up a B2B eCommerce system that's tailored for your business is a game-changing experience, especially if it leverages the latest technology (such as the Magento 2 toolkit). Building an eCommerce platform is an investment that can yield a very high return. Shopping online is the preferred method of buying for huge portion of the population. A Forrester report even found that B2B buyers prefer self-service elements on eCommerce platforms over traditional sales methods. The same report predicted that B2B eCommerce would account for 17% of all B2B sales in the U.S by 2023, accounting for over $18 trillion. See US B2B eCommerce Will Hit $1.8 Trillion By 2023.
Here are a few reasons why:
Close More Deals – with Less Outreach: One of the justifications for the cost of a B2B eCommerce system is how many sales it can make with minimum involvement from your team. With a self-service shopping experience, even new customers can easily navigate your inventory, see accurate prices according to their unique circumstances, buy products in bulk, and request those products to be customized to their needs. This entire process can be completed without interaction from your team, but if the customer has a question, tools like live support chat boxes facilitate immediate help.
Get More Visibility Online: While the self-service model is a major milestone for B2B eCommerce, posting your products and information online can also significantly increase website traffic. By focusing on search engine optimization (SEO), your B2B eCommerce store can bring in highly motivated leads based on their search inquiries, bringing them directly into your online store!
Provide a Personalized Shopping Experience: Using a B2B eCommerce system opens the door to more sophisticated product personalization. If your products and prices vary based on buyer profiles, you can organize buyers into the correct pricing tiers and display pertinent products. This extends to personalized payment methods, such as recurring payments, price negotiation, and bundles.
The cost of a B2B eCommerce platform pales in comparison to the benefits it can bring to a company. From finding more customers and closing more deals to improving buyer loyalty and beyond, having a platform that's tailored to the exact needs of a business can be incredibly powerful. The right B2B eCommerce platform can bring out the best in any business and greatly simplify the shopping experience of its customers.
All Articles