Magento is one of the top 5 eCommerce solutions and is considered a market leader. It has been one of the big players in web commerce since its beginning in 2007. Its continued strength among greatly increased competition, in a field in which many competitors have come and gone, indicates resiliency, integrity, dependability and quality.
Burger King, Land Rover, Coca Cola, Ford, Fox Connect, Nike, Rite Aid, The North Face, Ghirardelli and Fiji Water are a few name brands that use Magento for their web stores.
Currently, the top eCommerce platforms are WooCommerce, WooCommerce Checkout, Magento Open Source, Magento Commerce, and Shopify. BuiltWith Trends provides the following data on market shares of these platforms, looking at different sample sizes along the dimension of popularity.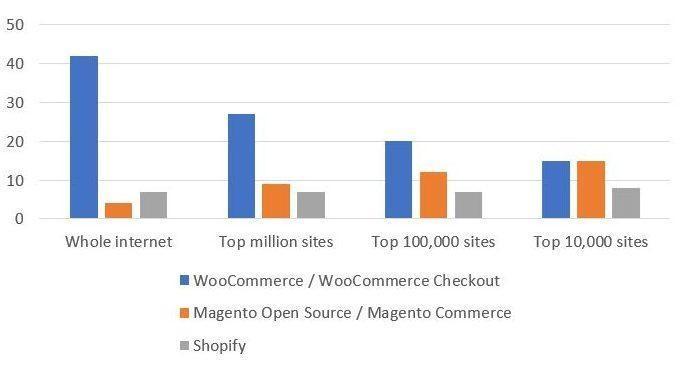 Percent Market Share via BuiltWith 2018
There is a clear pattern: the more popular the website, the more likely it is to be Magento
Notably, when you get to the most popular 10,000 commerce websites, Magento is tied for first place with WooCommerce (which has saturated the internet with easily created stores).
In the early 2000's, eCommerce was regarded with suspicion. It had yet to be widely established as safe, secure, and reliable, especially for smaller sites that weren't Amazon or eBay. Given that, Magento was a pretty early presence in eCommerce, and its ascent coincided with the ascent of eCommerce. It quickly rose to prominence, as we can see from the graph below, which charts search term interest, using Google Trends data.
If it looks like Magento has encroaching competitors, consider the trend of eCommerce use in general:
eCommerce has been ballooning hand over fist. There is plenty of room for different kinds of eCommerce solutions. Many of the newer platforms serve different purposes than what Magento focuses on. For example, solutions such as Squarespace and Shopify cater to smaller-scale stores that don't need robust feature sets. Shopify has stringent limitations on customization, whereas Magento is built around the idea of customizability. In its space, Magento still reigns.
Magento is open-source, which means anyone can contribute and the best code wins. Over its long history, Magento has been in a continuous process of refinement and optimization. Far from losing adherents, the community is thriving and the platform is getting better and better.
Recent versions (Magento 2.x) provided merchants and developers a number of long-awaited features. Merchants are pleased by faster performance, a more intuitive admin portal, and a richer set of shopping features. Developers are happy about the Magento CLI, LESS support, RequireJS-based JavaScript framework, simplified architecture, and deployment modes, to name a few.
When dealing with web frameworks it is important to assess the field, periodically. Content management systems and eCommerce solutions wax and wane in viability. Checking the status of Magento, we see a strong web technology that will remain prevalent for a long time to come.
Update Q4 2019: Magento is ending support for Magento 1.x as of June 2020. As such, those with sites still on Magento 1 should be planning for migration to Magento 2. This is a complex upgrade that requires rebuilding a site. Get an overview of what's involved here.

This retooling of the platform demonstrates that Magento is here to stay and committed to providing technologies to help businesses grow. This article shares info on Magento usage stats.
Get a FREE eCommerce Business Assessment – learn how you can manage orders, product data, customer information, and accounting processes in one seamless system.
All Articles