AccuStandard
Magento 2 Commerce Site Sells Thousands of Chemical Reference Standards Worldwide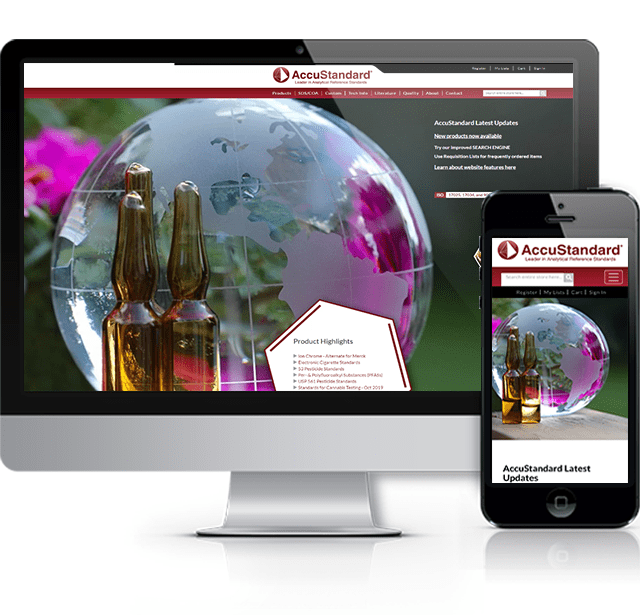 AccuStandard is a leading manufacturer of Certified Reference Materials (CRMs), providing many organic, inorganic and petroleum reference standards for chemical analysis to customers around the world. Based in New Haven, CT, their website began as a WordPress site providing information and documents. They evolved to selling products online, with the eCommerce portion of their business built separately in Magento and linked to from the WordPress site. In 2015, company owners and the website team planned a path forward where all content and shopping functionality would live on one Magento website. Also to be included – real-time integration with their well-established and highly customized FileMaker database.
From the website: AccuStandard ships products to over 130 countries and maintains a distributor network in 85 of those countries. Since AccuStandard's inception the product line has grown to include over 12,000 Reference Standard products and twice that number of special formulations which have been developed for specific customer needs.
Wanting to work with a local company with whom they could build a collaborative relationship, AccuStandard contacted Harris Web Works (HWW). After several discussions and exploration of HWW's expertise in Magento programming/administration and database integrations, AccuStandard and HWW teamed up to build the new site. The crux of this project was to merge the WordPress and Magento versions of the website into one seamless website and to help streamline the integration of FileMaker and Magento. Other top objectives were to improve upon the usability, searchability and design of the site.
———————————————————————————————
Updated Magento Website Evolves to Meet New Needs and Goals
The initial website development project rolled out over several months and addresses many complex goals for the site:
Integrate Magento eCommerce functionality with back-end order-processing systems built and customized in FileMaker
Address various product configurations and content properties for thousands of products
Create mechanisms for customers to request custom-formulated products, literature and to upload batch orders
Streamline customer profile nuances which may include multiple buyers or departments within one business, various purchase order agreements, and unique shipping requirements
Handle automatically-generated emails for several website functions, going to customers and internal departments
Include security/sign-in requirements for shopping, sharing saved items, and downloading certain documents
Since the new site launched in 2016, HWW and AccuStandard have continued this successful collaboration with focus on continually refining and update the website – and addressing urgent issues that arise. AccuStandard's internal web-focused team and HWW programmers and project managers have completed the following goals (and more!):
Added credit card Tokenization for increased data security
Migrate from Magento 1.9.3.2 to Magento 2.x
Added a secure portal for distributors to access customized reports and collateral materials
Continually refine sorting and shopping options
Continually update back-end functions to improve efficiency for internal departments
Keep the look and feel of the site current and in-line with the company's position as a world-class supplier of technological materials – new homepage design
Expanding To Global Hosting Solution with Clustered Database
AccuStandard.com site has several thousand users each month, with purchases coming in from around the world, 24/7. This presented a need for customers around the world to experience the same quick speed as those in North America. After research and discussions between HWW programmers and the AccuStandard team, the most effective solution was to host a copy of the Magento eCommerce store in South Korea. However, it was important not to have two copies of the customer and product database, which would cause confusion among staff, create duplicate order or user account information, and create additional maintenance. The solution was to mirror the website and database. The database and website in Northern Virginia and South Korea function as one presence. There is one database and one administrative interface to maintain. As a bonus, each site serves as a live backup in the event of an outage. This solution was implemented with tools available exclusively at Amazon Web Services by HWW's AWS Certified Solutions Architect and programming team.
The result is that this new clustered database and replicated website solution provides a faster and more reliable browsing experience for their large customer base in Asia and the South Pacific – with no additional administrative overhead. In particular, the improvement for Chinese customers is substantial (color shows quality of connection to the website):
Select Projects:
Magento - Industrial, Manufacturing
Magento - Consumer, Retail
Biopharmaceutical & Life Sciences