Solar Biz
New Integrated Website Helps Company Expand Beyond U.S.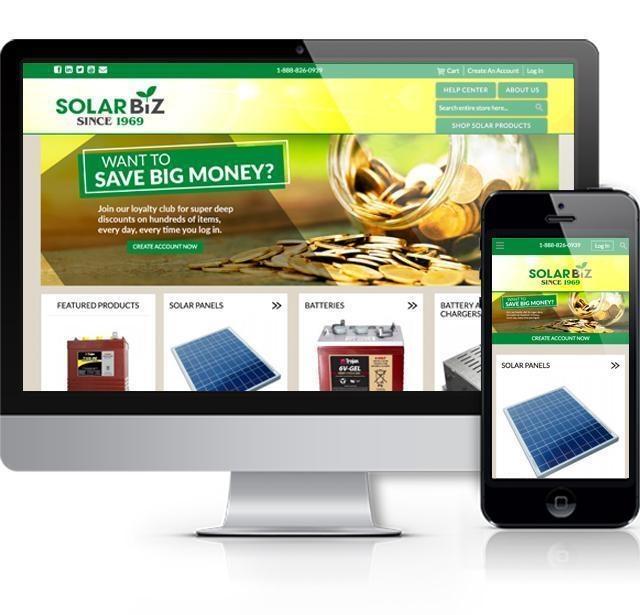 The Solar Biz has been selling renewable energy equipment since 1969. It's a family-owned business known for providing expertise and solutions that help customers get the most efficient system for their needs. The owners wanted to expand from the U.S. to all of North and South America, and needed an advanced website solution to make their vision a success. Their existing website could not accommodate their growth plans, so they decided to invest in a Magento-based site.
In 2016, Harris Web Works began a partnership with Solar Biz. First step was building a new website in Magento, including integrating extensive product and customer data. Since then, the collaboration has progressed to encompass regional expansion, hosting and marketing.
Overview of work handled by Harris Web Works:
Migrated previous website from NetSuite e-commerce to Magento Community and redesigned it with a new look & feel
Integrated existing NetSuite ERP functions (order fulfillment, accounting and shipping) with e-commerce functionality; a seamless bi-directional system was achieved with SYNC Connection™ NetSuite-Magento connector
Reconfigured site navigation and product groupings
Updated product feed to work with Google Shopping
Set up complex pricing structure for customer group, tiered and matrix pricing
Built site for Latin America, with different pricing structures than U.S. site
Handle ongoing site administration and content updates
Set up and manage enterprise level cloud hosting on Amazon Web Services (AWS) datacenter network

Best-in-class hosting provides optimal redundancy, uptime and performance
Hosting continually monitored and backed up for maximum stability and continuity of service
Engineering, development and support by AWS certified technicians

Implement targeted display advertising and remarketing campaigns that attract more leads and help boost sales
For more about integrating NetSuite ERP functions with a Magento e-commerce website, see overview and white paper about the Harris Web Works SYNC Connection™ tool.
Additional Resources
Other Projects:
Magento E-Commerce B2C
Biopharmaceutical/Life Sciences