Prev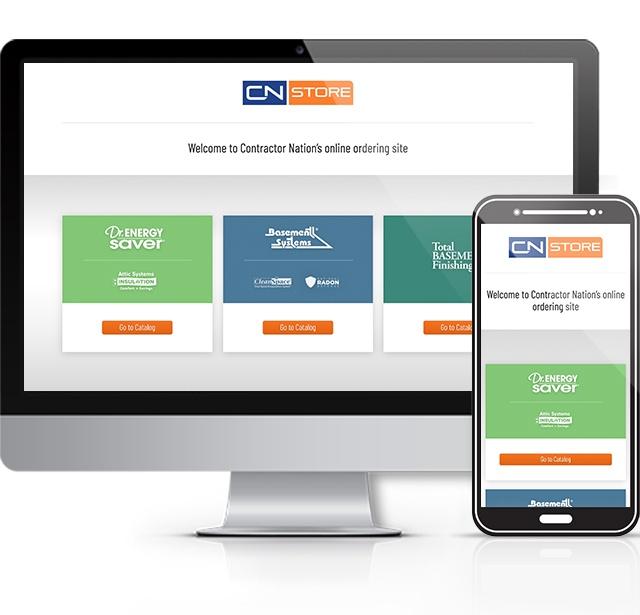 B2B Magento Commerce Multi-Store - ERP Integration, User Portal, Complex Pricing Rules
CASE STUDY: Background and Requirements
Industry:  Residential construction – insulation, roofing, attic, basement, waterproofing, energy efficiency and more.
Market:  B2B – home improvement contractors (dealers) throughout the U.S.
Objectives:  Increase efficiency of placing orders, managing databases, supplying collateral materials, training, and more). Allow custom pricing based on dealer profile.
Technologies:  Magento 2 Commerce On-Premise (AWS hosting), Microsoft Dynamics GP, SalesPad
Solutions include: Six Stores on One Magento Instance, Custom-Built Pricing Extension
Contractor Nation is a "network of networks", comprising home improvement contractor dealer networks across the U.S. Dealers must meet selection criteria to join a network for roofing, HVAC, etc. Once in a network, Contractor Nation provides access to ongoing training, marketing, financing & selling tools, and products from industry-leading brands Basement Systems, Total Basement Finishing, CleanSpace, Dr. Energy Saver, National Radon Defense, and Attic Systems.
Contractor Nation offers over 2,700 products from 6 product lines. Each dealer has unique pricing and product selection. The solution was to create an ecommerce B2B buyer portal system that:
Maps to existing business rules and price books
Includes a bi-directional integration with Microsoft Dynamics
Can handle integration with a PIM system – to streamline online and print catalog creation
Provides a modern buying experience

Once discovery was complete, the Harris Web Works team set about building an integrated ecommerce system, engineered as follows:
Magento Commerce 2.3
3 Websites on 3 separate sub-domains, encompassing 6 separate branded website catalogs/stores (see screenshot at top)
Custom pricing module
Maps prices per product, per customer
ERP Integration with Microsoft Dynamics GP
Custom catalog creator – use product data to generate print catalogs
Microsoft Dynamics 2-Way Connector with Partner i95Dev
A custom connector syncs data between the ERP system and the Magento site. This lets Contractor Nation use current product data from Magento to generate print catalogs, saving much time while keeping catalogs as current as possible.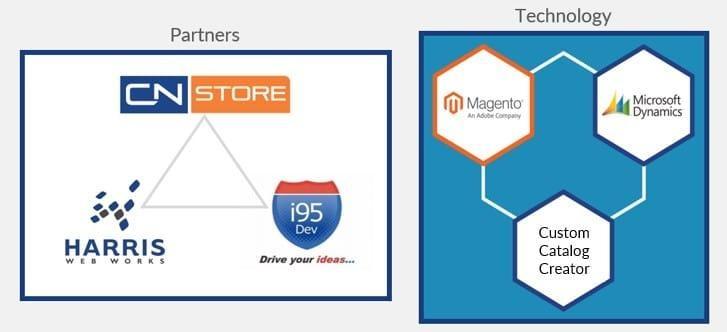 Harris Web Works built the Magento 2 site and coordinated the connector integration with i95Dev and Contractor Nation.
Solution: Custom-Built Pricing Extension
Harris Web Works engineered and built a custom extension to handle complex pricing rules, enabling virtually infinite per-product & per-customer price configurations.
Complex B2B buyer pricing requirements
3 Business entities = 3 websites, each with their own domain
6 Total store views
Multiple price groups per entity
Product price levels defined by product and by price group
Result: B2B System Ready to Scale
Now, buyers enter orders directly, reducing errors compared to the previous phone-based ordering system and freeing up customer service representatives to focus on higher value tasks. Buyers see current info, rather than relying on print catalogs that may be outdated.
Inventory and prices update in real time
Manage products based on dealer profiles
Promote products based on user groups
Portal has advanced functionality and business-specific branding for each buyer
Summary
Key to the success of this B2B ecommerce project was a discovery process on how Contractor Nation used their ERP and inventory management systems. Harris Web Works and i95 created thorough documentation of all known requirements, with extra attention given to pricing rules. Then Harris Web Works created 6 individually branded websites on 3 separate domains – on one instance of Magento Commerce.
Now Contractor Nation and its dealers are poised for continuous growth, with Harris Web Works as the technical support partner, providing programming, hosting, and administrative services.
Contact us with any questions.
Additional Resources
Select Projects:
Biopharmaceutical & Life Sciences
Magento - Consumer, Retail
Magento - Industrial, Manufacturing