Prev
Over 140 Magento Open Source eCommerce Stores with NetSuite Implementation & Integration and Marketing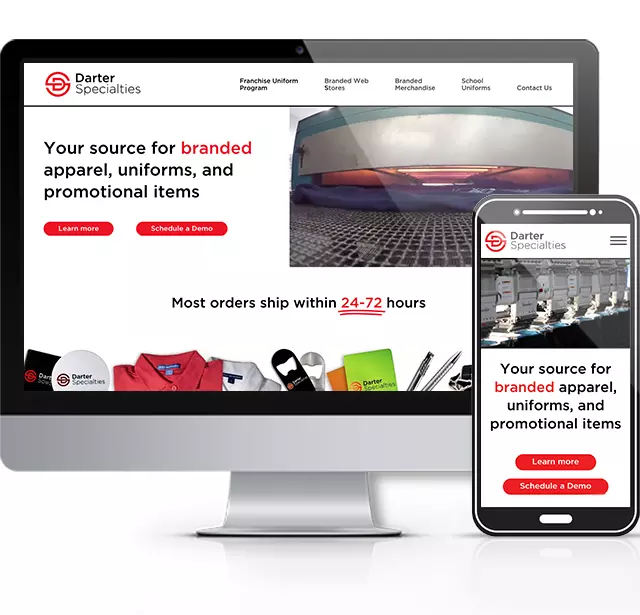 Darter Specialties serves franchise operators by providing custom-embroidered or imprinted clothing, accessories and other "swag". In recognition of the tremendous potential for enhancing operational efficiency and gaining a significant competitive advantage, the owner embarked on a multi-faceted, phased digital transformation journey. This meant transitioning from conventional, paper-based, and homegrown computer desktop systems to state-of-the-art, integrated, and cloud-based digital platforms. Seeking a local website development agency, he selected Harris Web Works (HWW) due to the company's experience building B2B eCommerce systems for manufacturing and distribution companies.
Industry: Producer of branded items for B2B customers. 
Market: Franchise operators,  small-medium-sized businesses, schools, organizations. 
Differentiator: Darter Specialties is known for their high quality products, fast turnaround, and customer-focused service. Embroidery and printing processes have been honed over decades, enabling them to ship many items within 24-72 hours and continually scale production.
Goals
Build an ecommerce solution that gives hundreds of customers their own branded store, with product selection and pricing managed in the ERP system and pushed to the ecommerce platform.

Create a platform for franchise companies that will enable Darter to compete for larger businesses.   to easily manage over 100 sub-domain stores, each with unique branding and product selection.

Automate integrations with their ERP system, to gain efficiencies that translate to a better customer experience, which is central to their core value of providing excellent customer service. 

Integrate with supplier APIs for current inventory levels. 

Create a leads-generation mechanism and implement digital marketing to reach new target audiences.
Technology Stack

Magento Open Source eCommerce platform – 4 instances, all private, customers must log in 

Amazon Web Services (AWS) On-Premise Managed Hosting

NetSuite ERP system 

Custom bi-directional connector between NetSuite and Magento

Public WordPress business website:  Darterspecialties.com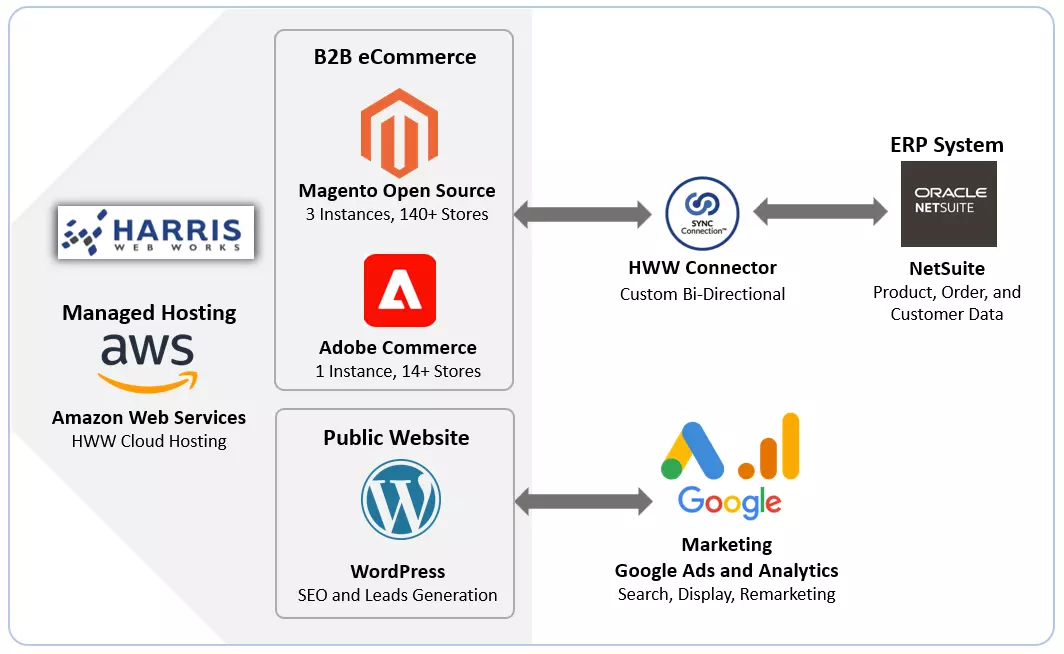 Challenges and Solutions
HWW initiated Darter's digital transformation in 2019 by designing and building a new multi-store Magento 2 Open Source system. On-premise Managed Hosting on HWW's Amazon Web Services (AWS) platform enables quick and efficient optimization of server resources, which keeps stores running fast and at high performance levels. Once the foundational website was built, ongoing incremental improvements began. This included adding more stores and new instances as server containers reached maximum optional use. 
As Darter's eCommerce presence expanded, HWW seamlessly integrated critical technologies into the platform to continually leverage default and customized functionality as needed. HWW's custom connector enables bi-directional flow if data between Magento and NetSuite. 
HWW works closely with Darter, providing day-to-day administrative and technical support, strategizing on ways to streamline processes, then planning and implementing solutions. HWW built multiple features to overcome pain points, including an extension to enable branding of each store's orders and a product import process that populates each store with items displaying their logo.
By 2022, Darter Specialties was ready to replace their outdated, home-grown desktop ERP system with the industry-leading NetSuite cloud-based ERP system. HWW built, configured and launched the NetSuite platform, including providing individualized training sessions to Darter employees. A critical part of launching the new NetSuite ERP system was to fully integrate it with the Magento eCommerce system. HWW engineered and built a custom connector to facilitate bi-directional transfer of product, customer, and order data. 
Results
Once the goal of activating many unique stores was complete, Darter was positioned to expand their business in several ways. Almost immediately upon giving users the new online buying and order management functionality, sales began increasing and have continued to grow among existing and new customers. New stores are added monthly. 
The success of this multi-store structure enabled the owner of Darter Specialities to compete for – and win – a partnership with BuyMax, one of the largest franchise organizations in the country. Upon entering into the new agreement with BuyMax, HWW fast-tracked building a website for their stores, starting with about 20 and adding more. Darter now handles production of branded apparel and promotional items for all BuyMax franchisees.
In 2023, HWW built a new WordPress website highlighting the services and products Darter Specialties offers for different audiences. The site serves as a lead-generation and marketing tool. As of Q4-2023, HWW has begun working with Darter to develop and manage paid and organic marketing campaigns. 
This multi-phased, cross-platform implementation enables Darter Specialties to harness the full spectrum of benefits offered by modern digital ecosystems. Product data, customer info, and orders now flow seamlessly and bi-directionally between the Magento purchasing platform and the NetSuite ERP system (accounting, order management, and fulfillment). A public-facing website completes the business needs by facilitating various marketing initiatives.  
Additional Resources